Back to staff directory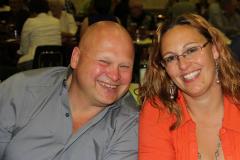 Hi! My name is Michelle Dunwoody and I am currently teaching Social Studies 6, Math 7, 8, 10-3/11-3/12-3, Science 14/24, and Career and Life Management. Besides being a teacher at PPS, I manage the Provost Panthers Football program, maintain our school social media accounts and website, as well as provide assistance for students and staff on Educational Technology within our school.
When I am not marking, geeking out on new apps/programs, or preparing lessons, you will find me at home with my family. With similarities to the Brady Bunch, Marty and I have brought our families together, with 6 children between both of us.
One of my favourite past-times is sitting at my sewing machine and quilting. This has been put on the back burner for now while I pursue my Master of Educational Leadership at the University of Lethbridge.
Although I am a Maritimer at heart, I have lived in Saskatchewan for 20 years. I miss my parents, siblings and their children every day. Not being able to be at home for the family celebrations is difficult, but now that my own family has grown up and have left the nest, I cannot see me living anywhere else.