Back to staff directory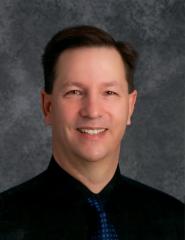 Bradley Pylypow is a teacher at Provost Public School. He has been teaching at Provost Public School since 1990. He is known in the school as "Mr. P" and around the community as "Pyly."
Mr. P teaches Mathematics 9, 10C, 20-1, 20-2, 30-1, 30-2, and Physics 20 and 30.
Mr. P is the Athletic Director for Provost Public School. He grew up in an athletic family and enjoys sports. His favourite teams are the Montreal Canadiens and the Saskatchewan Roughriders. He coaches Cross Country, Volleyball, Badminton, and Track and Field.
Mr. Pylypow is also the 1A East Volleyball Commissioner for the Central Zone, the President of the Highway 12 Volleyball League, a Level 2 (Provincial) Volleyball Referee, a Level 2 Baseball Umpire, a Level 2 Softball Umpire, a Level 1 Basketball Referee, and a spare bus driver.